The New Year is off to a good start with a plethora of new exciting colours, materials and decorative objects in home decor. We have found ourselves to be immensely inspired by current trends as if they are speaking our private design language and fully allowing deep personal expression. The flexibility to style your own home demonstrates a merging of cultural influences and freedom to express our individuality. Our clients rely on us to create bedding that will be totally individual to their needs and desires, as an object of self expression in their private sanctuary.
Fino Lino display bed showing Dea Luxury Linens and Kevin O'Brien silk pillow.
Strong neutral linen table cloth.  Table display styled by Fino Lino.
Interiors and Home Decor Crossing the Line of Fashion
The fashion runway always gives the earliest suggestions of how colour will manifest in the New Year as do companies that predict colour trends like Pantone.  Recent fashion collections are debuting updated monochromatic neutrals such as creamy beige, pink and camels. Undertones have become warmer with hints of gold. Even grey tones are showing a more earthy warmth.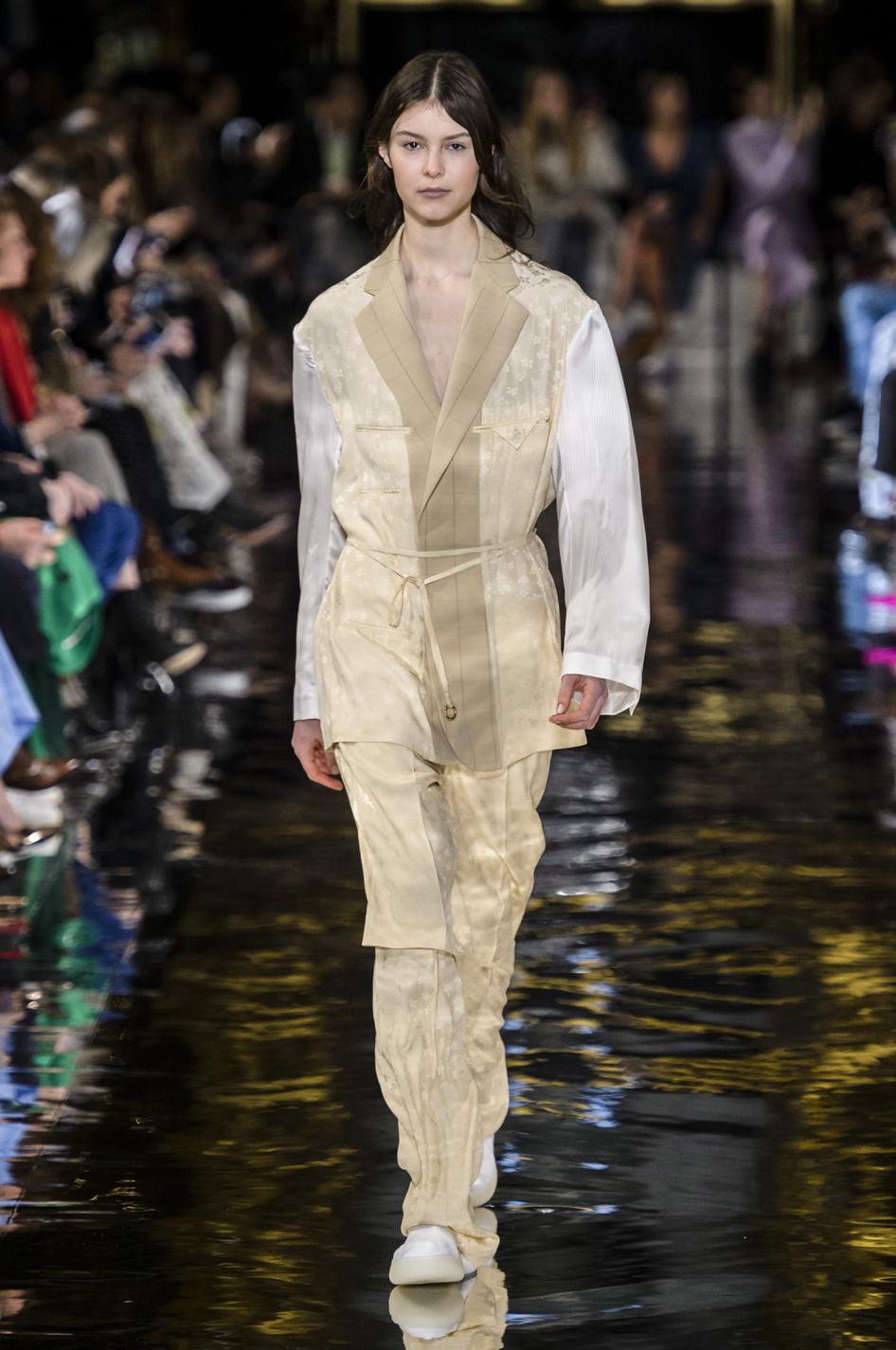 Gold undertone beige with animal texture - Stella McCartney's Pret-a-porter Autumn/Winter 2018-2019.  Image source Madame Le Figaro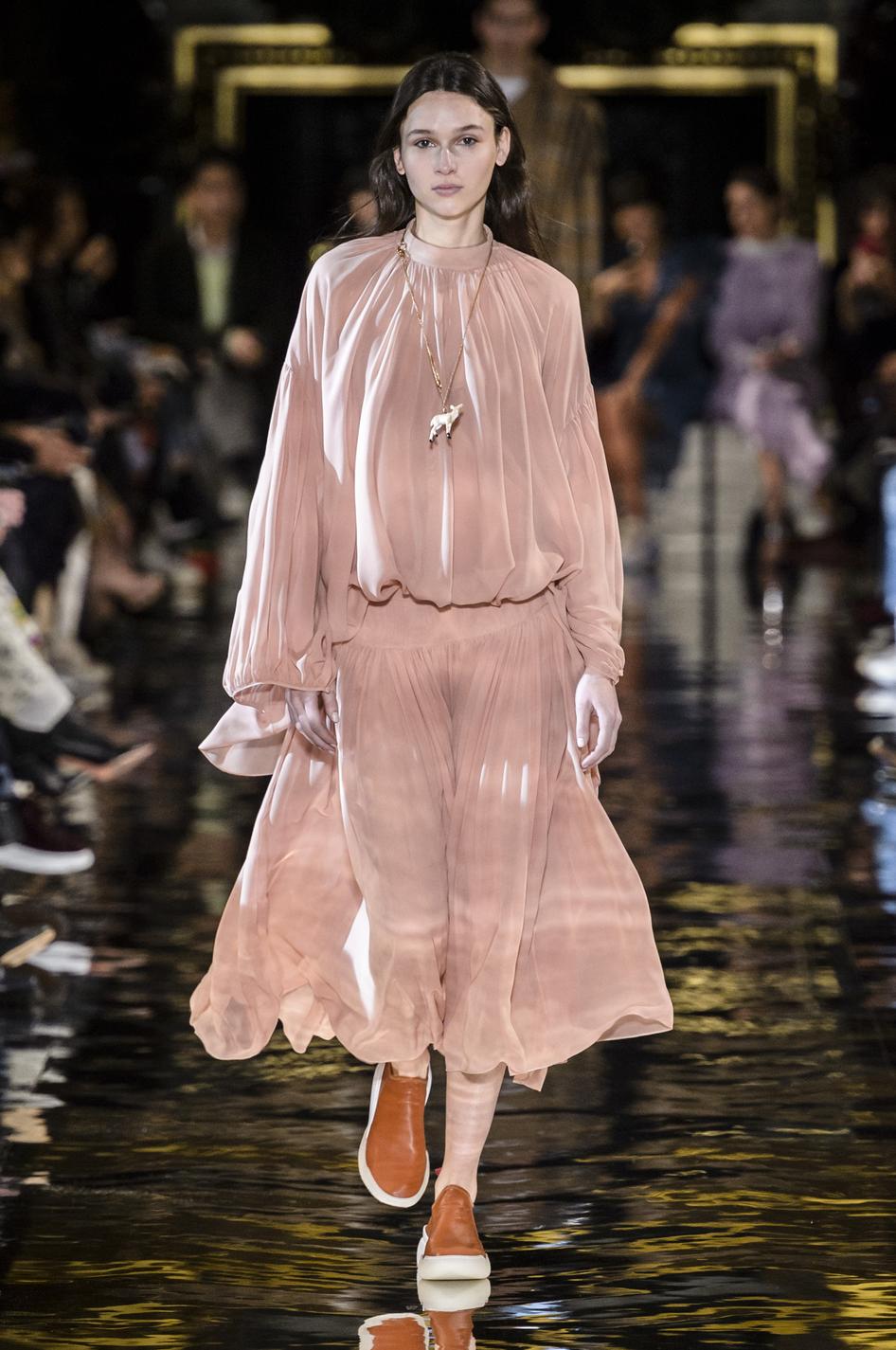 Pink mixed with camel - Stella McCartney's Pret-a-porter Autumn/Winter 2018-2019.  Image source Madame Le Figaro.                
Layer It Up
Sensuous velvet and cashmere  
This Fino Lino bed shows our interpretation of the new monochromatic trend styled with larger scale animal prints, mixed textures - some matte, others with sheen. Hints of matte black act to ground multi patterned designs.


Art Deco Inspired Mixing Old with New, Dramatic Shapes and Scale
Bed frame by Bernhardt and side table by Ercoles.  Styled by Fino Lino.
Sensational pink expressions of deep femininity.
Growing interest in hand made products - Kevin O'Brien silk pillows and Oyuna cashmere throw, available at Fino Lino Vancouver.                         
Monochromatic Maximalism
Golden pink and coyote silk velvet accessory pillows by Kevin O'brien, available at Fino Lino Vancouver.  Chic interiors and a new maximalist approach are inviting, using lots of texture and lush fabrics that encourage us to relax, embrace serenity and wellness.  Painterly brush strokes and graded techniques are the go to fabric treatments for 2019. We love the silk velvet by Kevin O'Brien Studios.
Create a Warm Safe Cocoon
Bernhardt bed with Designers Guild bedding. Draperies by Pardi of Italy.  Available at Fino Lino Vancouver.


Bedding by Dea Luxury Linens a generational family business run by three women in Italy.
Add a new shape and a hint of white to lift new pinky beige and greige.
Nature Colours and

 Deep R

ich Hues are M

aking a Statement
Behr colour of the year Blueprint S470-5 .  Image source from Behr
 Sapphire Blue Dominates Home Accessories
 Use strong deep blues throughout the home
Galli rugs by Abyss & Habidecor.  Available to order from Fino Lino Vancouver.  Image source 
Blue grey linen and bedding by SDH available from Fino Lino Vancouver.
Classic camel mixed with deep jewel tones. Image source Behr Color Trends 2019.
Nature Colours; Be playful, mix it up
Blues remain deeply rooted in our bed linen collection and instantly refresh grey, white and neutral bedding.  Blue is the colour of trust and safety and fills our hearts with memories of sunny blue skies and tropical oceans.  There is also renewed interest in classic forest green, teal and aquamarine.                         
 Create interest with paint techniques
 Another trend setter is Dulux Paint debuting new ombre paint techniques and deep saturated colours.  Source: How to Achieve a Painted Ombre Effect - Dulux UK
Mix Cool Tones with Warm Metals
Mix warm metals with grey for an instant refresh of home decor. Farrow and Ball Bail Railings No.31 Estate Eggshell: Image source Farrow & Ball
Lavender refreshes grey
Popular grey interiors are experiencing a metamorphosis with the addition of new unexpected accents to redesign home decor. New lavenders and sapphire blues refresh home decor with easy to add accessories and paint. Bed display by Fino Lino & accessories by Kevin O'brien.
 Amethyst crystals by Mother Nature.
Add lavender pillows and amethyst crystals to your grey decor for a sense of well being. 
 Add Chunky Knits
Cashmere blanket by Cobi and chunky throw by Alicia Adams
Accessories are being rotated to reflect the current seasonal trends and the mood of your home life. Add layers of chunky knits, faux fur and cashmere in the colder months. 
Warm gold and brass and copper fixtures
                        Pendant lighting in molted warm gold finish available at Fino Lino.
Botanical inspired back lit lighting suggests the colours and themes of the season and would add such character to your home decor. Fino Lino Collection.
 Artisan back lit wall fixture Fino Lino Collection
Coral and Orange Variants
 Image source Style Me Pretty
The other popular movement in colour is towards exuberant brights manifesting unpredictable combinations and textures. Pantone colour of the year "Living Coral" evokes memories of when it was used as a strong neutral bestowing a positive good mood to the home environment. We will be adding a coral feature wall in Fino Lino with new gold and brass light fixtures, wall art and floor mats.
Table setting by Fino Lino
Bedding by Fino Lino
Bedding and accessories available at Fino Lino Vancouver 

 Bed linens by SDH . Available at Fino Lino Vancouver 
Take a Moment to Relax 
Enjoy afternoon Tea, It is a tradition at Fino Lino to sit down with the team in the afternoon for tea and a moment of relaxation. Tea set and tablecloth by Etro 
Add Bright Colourful Accessories that Change with the Season
Pillows by Designers Guild and Ann Gish. Available at Fino Lino.
Create Meditative Decor
                                                Photograph by Bob New  
Play with Large Scale Botanical Wallpaper and Fabrics
Image source from Cole and Son Ltd.
The embracing of nature and drawing on years past is being seen with the introduction of indoor plants, botanical wallpapers and fully functional outdoor areas with an easy transition from indoors to outdoors.
        Image source Cole and Son Ltd.
Be a Treasure Hunter
"Travel far, collect textiles and decorative objects that speak to your worldly heart and encourage interesting conversation.  Breathe new life to old and existing pieces with carefully selected additions in sustainable materials. Reuse/ re-purpose coveted favorites in an effort to help mother nature." 
If you wish to bring more beauty and comfort to your home our Interior Stylists with help you manifest your dream.
Fino Lino Vancouver
2715 Arbutus Street
Vancouver
V6J 3Y5
604 736 1828
info@finolino.net
www.finolino.net