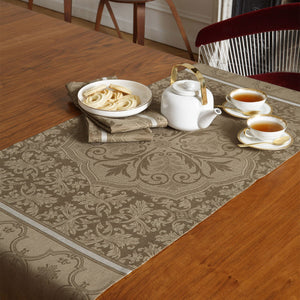 Armoiries Brown 20" x 59" Runner
Sale price Price $168.00 Regular price Unit price / per
"Armoiries" is a tribute to the decorative arts and the exceptional skills of our house, dive into the heart of the prestigious and elegant French heritage.
Arabesques, acanthus leaves and fleur-de-lis gather around a castle rose window. 
Linen, with its fine fiber and natural elegance, brings an exceptional touch to this collection.
It sublimates the designs and gives your decor a majestic touch.
The quality of our yarns allows for easy ironing and makes your daily life easier!

Details
100% linen
Made in France
Colours available: Brown
Machine wash and dry on delicate
Sizes