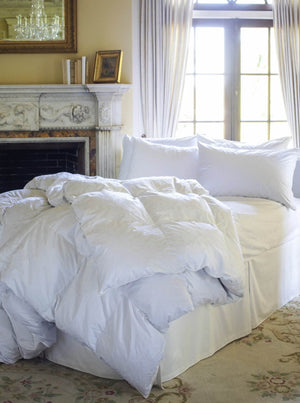 Genuine Eiderdown Duvet
Sale price Price $3,495.00 Regular price Unit price / per
Eiderdown is the softest and most sumptuous down in existence. It is light in weight, warmer in the winter, cooler in the summer and is unsurpassed for comfort throughout the seasons.
Eiderdown is hand collected from the bird's nests at Eider duck sanctuaries. For generations, the local farmers have created a special bond between themselves and the Eider ducks, where the birds aren't disturbed and they trust the down collectors implicitly. While eiderdown tests at 700 loft, its unique high density (the density of filaments on the down cluster) and cling (the ability to cling to other down clusters) make it insulate as if it were a 1000 loft down. 
Details:
Available with either 100% cotton jacquard cover or plain lyocell/ cotton batiste cover woven in Germany

Sealed Baffled Box Design

Genuine Eiderdown 700+ loft

Guaranteed hypoallergenic

Fabric is certified OEKO-TEX Standard 100

Includes certificate of authenticity

Available in Summer, Classic and Winter Weight
These duvets are guaranteed for 20 years for cotton ticking duvets against any defect in material and/or workmanship provided reasonable care has been taken.  This duvet will add an undeniable luxury and comfort for the ultimate sleeping experience and may be customized in fill weight.


Weight Guide:
If unsure which weight to choose, we recommend choosing a lighter weight, as down can be added if necessary, but not removed.  Please contact us if you would like a personalized recommendation.
**Items may take approximately 4-6 weeks to ship and arrive. Please contact us for in store availability.