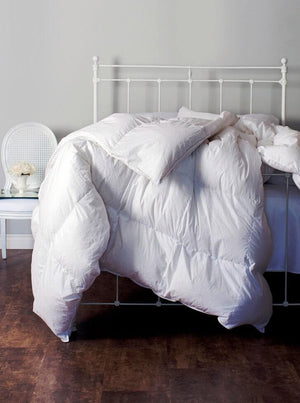 Lajord Duvet
Sale price Price $529.00 Regular price Unit price / per
The Canadian Hutterite Colonists are an old Christian group devoted to a simple agricultural lifestyle. Having emigrated from Europe many years ago, they brought the farming skills of many generations with them. Lajord White Goose Down comes from a goose farm located in Saskatchewan. The farmers take great care in raising free range geese that are more mature than those in other colonies. St Genève purchases their entire production each year. With a loft of 850 cubic inches per ounce and extremely large clusters, this down is one of the most prized of all domestic downs raised in North America.
Lajord is light, cozy and will be cherished for generations. 850 loft Canadian white goose down
Details:
400 thread count cotton sateen cover woven from Germany

Hand sewn in our sealed baffle box design

Piped in white satin cording

Down carries the Zurguard certification to be hypoallergenic

110 grams / square meter

3.2 ounce / square yard

Final sewing is done in Canada.

Weight Guide:

If unsure which weight to choose, we recommend choosing a lighter weight, as down can be added if necessary, but not removed.  Please contact us if you would like a personalized recommendation.
**Items may take approximately 4-6 weeks to ship and arrive. Please contact us for in store availability.