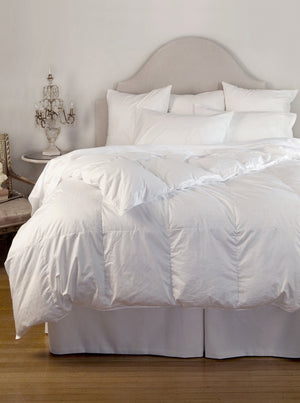 Salzburg Duvet
Sale price Price $895.00 Regular price Unit price / per
Salzburg is one of the most distinctive downs because it looks and behaves like a "White Eiderdown".  It comes from mature geese and is meticulously hand sorted to obtain the largest clusters with the highest densities and cling factor possible.  While this down tests out at 800 loft, its eider-like properties give it the equivalent insulating power of 900 points.
100% Cotton Sateen Jacquard 380 Thread Count
Details:
Ticking (covers) made in Germany, piped in white satin cording

Sealed Baffled Box Design

European White Goose Down

Guaranteed hypoallergenic

The Salzburg is guaranteed for 20 years against any defect in material and/or workmanship provided reasonable care has been taken and a duvet cover used at all times.  This duvet will add an undeniable luxury and comfort for the ultimate sleeping experience and may be customized in fill weight. 
Weight Guide:

If unsure which weight to choose, we recommend choosing a lighter weight, as down can be added if necessary, but not removed.  Please contact us if you would like a personalized recommendation.
**Items may take approximately 4 weeks to ship and arrive. Please contact us for in store availability.